Welcome to the very first edition of Ryan's Record Reviews! To kick things off, here's something I just decided to do off the cuff as a result of a late-night listening session…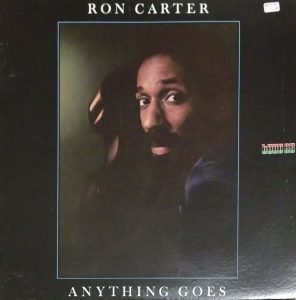 Ron Carter – Anything Goes (1975)
Sure – when it comes to haphazardly whipping together a strange pastiche of bossa nova and disco without any written notes or plans… anything goes.
This album will be going up for sale on Discogs soon! Check back for a link.
(Please note: the cover image shown above is a photograph of the copy I own, and the one that I'll be posting for sale.)
BEST SONG: "Baretta's Theme"
TRACKS:
Side 1: Anything Goes;

De Samba;

Baretta's Theme (Keep Your Eye on the Sparrow)

Side 2: 

Can't Give You Anything (But My Love);

Quarto Azul;

Big Fro
Ron Carter's 'contractual obligation' album, radically different to what me and my dad are used to from one of jazz's most versatile bass players… and not in a good way.
This seems like a case of Creed Taylor and company telling the boys "hey cats, ol' Mr. Van Gelder's awfully busy right now so he's only got an hour for you guys to run into the studio and just lay down whatever $!!! comes out of your head. NO! I didn't mean Ornette Coleman $!?%, I meant… something the masses'll like… clean and fancy. Simple as that. I'm sure you can whip something up quick. Anything goes. How does that sound?"
And that, my friends, is exactly how this album (and its title) came to be.
OK… maybe that's a little bit of a stretch to say that's what was coming out of Creed Taylor's mouth those nights when the album was being recorded, but it pretty much sums up what you get here: an ersatz blend of sanitized disco-funk with Stan Getz-esque bossa nova beats in the most hilariously cheesy way conceivable.
I can't begin to comprehend what kind of f***ing drugs everybody involved was on when this was being recorded.
While Anything Goes is by no means terrible, it's way too kitschy and gimmicky for a musician of Carter's status, and a very far way from essential listening – while upbeat and competently performed the compositions are uniformly bland and don't stand out from one another (well….maybe except "Barreta's Theme").
And as much as some may cringe at the thought of "The Girl from Ipanema", even the relative tameness of Stan Getz' 1960's bossa nova albums is more exciting than this appropriation – which is little more than a pale imitation.
So, what is it but a mere curio, a historical lesson in the things that could go wrong when Creed Taylor wants his artists to whip up and rush-release some lazy crap as quickly as possible with as little regard as possible for true jazz aficionados?
Bottom line: find yourself a copy of Pastels and never look back.
Oh, and by the way, about the cover art… don't look at him.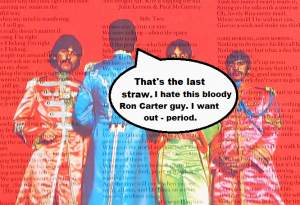 Paul McCartney's looking away from us on the Sgt. Pepper artwork NOT because he's 'dead', but because as musically agile as he is, he can't stand to listen to Ron Carter.
Then again, Quincy Jones can't stand to listen to the Beatles either, so what the heck. The whole music world is an upside-down mess… and if you look at the cover of McCartney's Tug of War, then soon you will realize it looks like he can't listen to anything else! That's what I see in his facial expression.
BUT: next… coming up – Black Eyed Blues, a *beautiful album* by Esther Philips. Recorded and produced by the same crew at CTI/Kudu, no less.
And recorded, also, with involvement from the likes of Ron Carter himself and Bob James. What more could you ask for?
ALBUM RATING: 
 (3.5 / 7 stars)
SOUND QUALITY RATING: 
 (4.5 / 7 stars)
OTHER RELEASES I HAVE BY THIS ARTIST:
PERTINENT RELEASE INFORMATION (extraneous data about the edition/pressing of the album being reviewed):